Introducing Chateau Katsunuma Winery
WINERY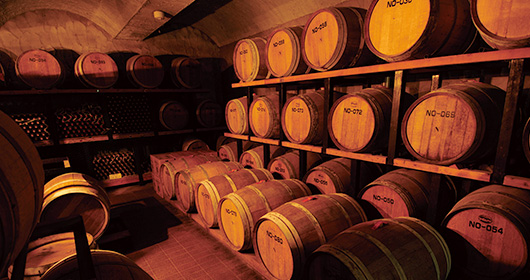 Encounter wine making in Japanese wine's famous wine making region.
Katsunumacho, Yamanashi: where the sun's rays gently rain down and a fresh breeze blows throughout.

A world renown wine producing region, it is compared with the likes of Bordeaux and Burgundy.

We invite you to come visit Chateau Katsunuma Winery, surrounded by vineyards, and experience the climate and atmosphere which go into creating delicious wine.

You will surely find your wine feels more personal and tastes even better. At the winery we accept tours daily.
Tour Points

1

Winery tours are free - no reservation required! Please contact us in advance if you plan to come as a group of 10 or more.

POINT
2

For groups of 10 or more we offer tours accompanied by a guide. (Reservation required)

POINT
3

After the tour we have the much-anticipated samples of wine and fruit juice. Please enjoy a taste of the seasons.
Winery Tours
Winery tours are free of charge. Reservations are not required for individuals. For groups of 10 or more, please contact us in advance.
Factory visits are suspended for the foreseeable future.
View the other facilities/access
Wine Shop Chateau Katsunuma

We have a full selection of all the products we produce at our winery, as well as a plentiful free samples. We look forward to your visit.

Restaurant Toriivilla

Toriivilla is an authentic French restaurant in a relaxed space based on the idea of local production/local consumption.

Access

We are in a prime location conveniently located within walking distance of Katsunumabudokyo Station (JR Chuo Line). Alternatively, a 5-minute drive from the Chuo Expressway's Katsunuma IC.